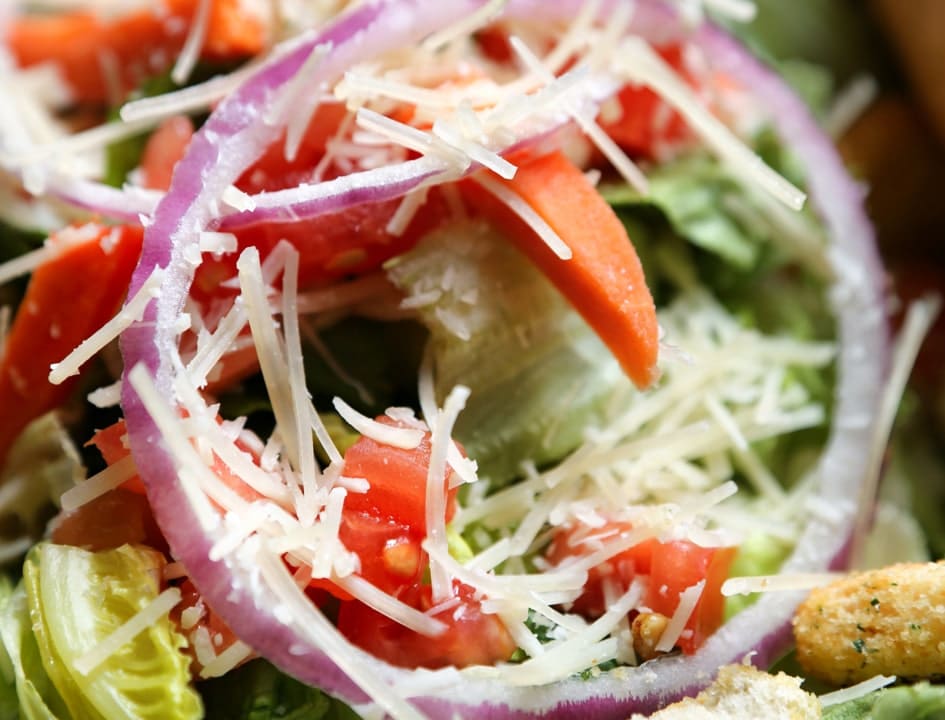 This Classic Italian Salad Recipe Will Make You Scream "Mangia! Mangia!"
Summer is salad season. Gardens and farmers' markets are overflowing with fresh lettuce, fresh tomatoes, and fresh everything else. It's hot. It's gorgeous out. It's time to fill a big bowl with produce and chow down. But you don't want bland, boring iceberg to sink your Titanic craving. You want flavor. You want zest! You want the best Italian summer salad.
Lettuce First Talk About Garlic
You might think a classic Italian salad would start with the lettuce, but you'd be wrong. It starts with garlic. This is, after all, an Italian salad. Not a Greek salad or a Poor Man's Nicoise Salad. It starts with garlic because, of course, it starts with garlic.
The flavor foundation of a classic Italian salad is everyone's favorite pungent allium. It's the main ingredient in the vinaigrette you make before you add anything else to the bowl. And look, you might think, "oh great, I've got to go find a giant bowl to get this right." but you don't. You can make this in a cereal bowl—just get the proportions down.
The Best Italian Salad Starts With the Best Italian Dressing
A simple Italian summer salad is one of the easiest meals you can throw together. You start by mashing a garlic clove into a paste with a pinch of salt. (You may be tempted to use a garlic press but worry you will suddenly hear the voice of Anthony Bourdain's ghost in your head screaming "don't you dare use a garlic press!" Do it anyway. Mr. Bourdain is wrong. Use the press. No one is looking. But, you can also use a fork and just squash that clove until it's a paste.)
Next, add the mayo, and whisk in the remaining Italian dressing ingredients. Add everything else, making sure to toss everything until it's thoroughly dressed. And you're done.
Easy peasy limoncello squeezy.
Yeah. Authentic Italian Salad Is That Easy
I have like 300 words to go in this article and there's not much else to talk about. Honestly, I don't even know if I need to add a recipe box. I don't know why I'm here anymore. Who am I? Who am I really? I'm kidding. Yeah, the salad is a cinch but there's plenty to discuss. Simplicity is key in a great salad, but simplicity comes from understanding why the salad is so good. It's not only the garlic. The garlic is the flavor bomb. It's the greens.
Lettuce Talk About Lactuca Sativa, Lactuca Sativa Longifolia, and Chicorium Intybus
Iceberg lettuce, romaine lettuce, and radicchio, respectively. And I mean "with great respect" because this simple trio is the elegant body of the best Italian salad.
If you go hunting for how to make Olive Garden's Italian salad, you'll find 800 thousand recipes telling you to start with a bag of American Salad mix. Am I the only person who thinks an American Salad mix is the wrong base for an Italian salad? Because it is. Well, it's OK. It will do. But you can get heads of romaine, iceberg, and radicchio cheaper than a bag of salad—and they will be fresher, too.
However, the Best Italian Salad Uses Greek Pepperoncini
Your dish needs peppers and those peppers need to be the classic pepperoncini peppers which, I hate to tell you, are Greek. That's fine. It's not as weird as using American Salad mix to make an Italian salad. Italy and Greece are neighbors and share a lot over the barely discernible fence between those distinct cultures. Italian salads have always used Greek pepperoncini, so they are authentic and proper.
Black Olives Make Your Italian Salad Great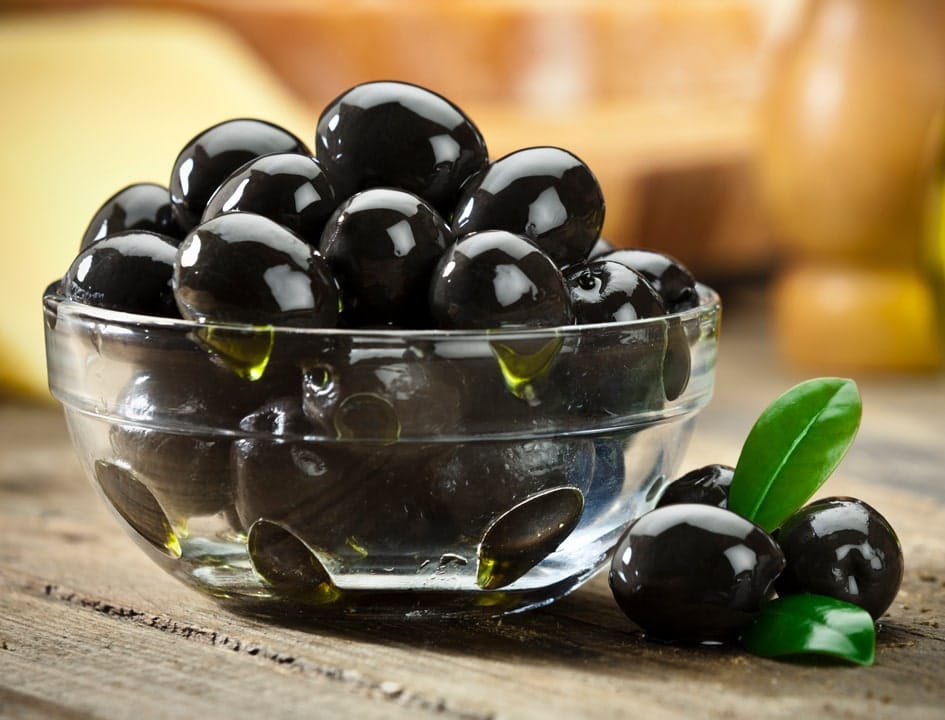 The salad must have black olives—but be careful. You want plain, pitted, whole black olives. Not oil-cured Greek black olives and not Kalamata olives. Put specialty highly flavorful olives in your salad and they'll fight with the vinaigrette. You don't want that. Violence never solved anything.
Red Onions But Even Better Than Red Onions
The second most important allium is red onions. Allium cepa is a classic ingredient of Italian cooking and they give this salad teeth. Slice the onions as thinly as possible and separate the rings. If you want less bite, but still want the flavor of the red onion, make a quick pickle of the onion slices by immersing them in vinegar for half an hour. Then drain them thoroughly and blot them on paper towels before adding them to the salad. Be sure to add a pinch of sugar to your dressing to balance out the extra vinegar.
This is Why Real Parmesan Makes for the Best Italian Salad
This brings us to topping number one: grated Parmesan cheese. And here's where you need to buckle up and get real. Real Parmesan, I mean. Don't use the stuff in the green shaker. It is horrible and will put a dent in your karma just for looking at it. Buy a hunk of actual parm and finely grate it and you'll see why you don't need that powdery mess. Real Parmesan tastes better, smells better, and is—by volume—cheaper than the prepared kind. It will change your Parmesan game forever.
Only 1 in 10 Salads Use Homemade Croutons
Topping number two is homemade croutons. I can already hear you saying, "Hey, man, I don't know how to do tiny breads." But chill out. You got this. You'll need bread — ideally, that loaf of Italian bread you were going to eat yesterday but forgot about. Slice it into cubes anywhere from half-inch to an inch. Toss with oil. Bake in a 375-degree oven until crispy. Voila, DIY. croutons.
Wait, Where are the Other Two Italian Summer Salad Recipes?
You don't want to stray too far from the classic, foundational recipe. But, by changing some of the key ingredients, you can customize this salad in two new directions. You can make the same salad, but tweak the flavor profile by swapping ingredients.
FRENCH IT UP

Swap the red onion for equal parts shallots and leeks, thinly sliced
Swap the iceberg for Frisée lettuce
Add 1/4 c. thinly sliced carrots
Add 1/4 c. slivered celery
Add 1/2 t. Dijon mustard to the dressing

GO GREEK

Swap the Parmesan for cubed Feta
Swap black olives for Kalamata olives
Swap red onions for white onions
Add 1/2 t. of fresh lemon juice to the dressing
Print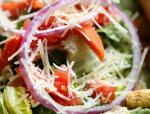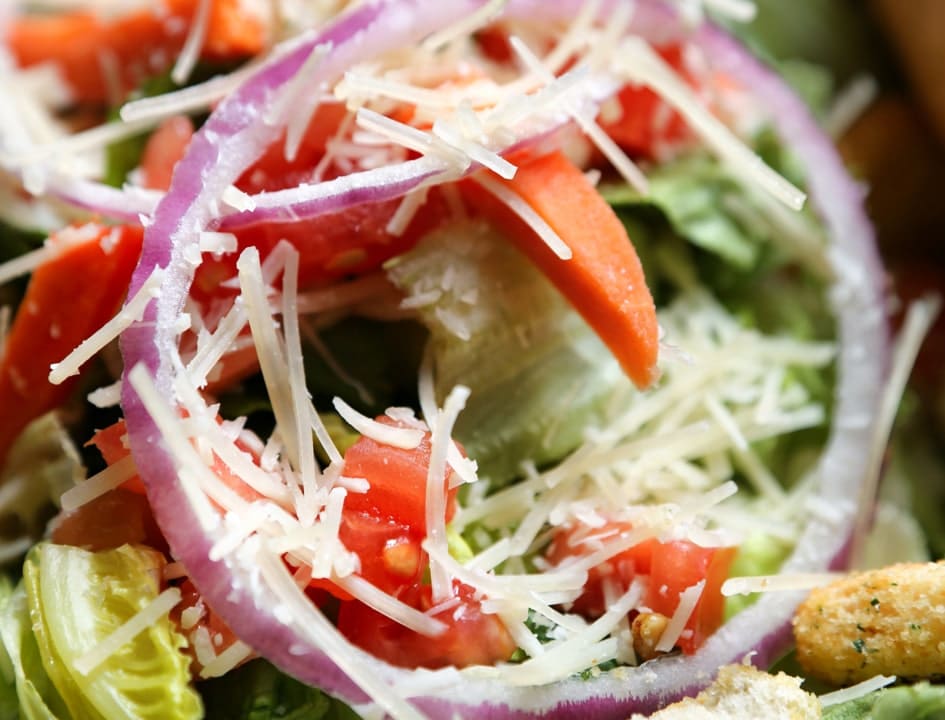 Best Italian Salad
---
Author:

Total Time:

15 minutes

Yield:

4

servings

1

x
Description
This is the easiest classic Italian salad you'll ever make. There are really only two steps. Pour yourself of nice cold coupe full of prosecco and get to work making the best Italian salad ever!
---
1

garlic clove
Pinch of salt

2

T Hellman's Mayonaisse

1/4

T extra virgin olive oil

1 1/2

T red wine vinegar

1/2

t Balsamic vinegar
Generous pinch of dried oregano
Generous pinch of freshly ground black pepper
Pinch of sugar (optional, see above)

1

large head of heart of Romaine, chopped

1

small head of Radicchio, cored then chopped

1/4

small head of Iceberg lettuce, chopped

1

small red onion, thinly sliced

1

Roma tomato, halved, sliced

1/2

C pitted black olives

8

to

10

whole Greek pepperoncini

1

C finely grated fresh parmesan cheese

1

C homemade croutons
---
Instructions
Slice the garlic in half; coat the inside of a large salad bowl with the garlic.
In the same bowl, mash the garlic with the salt until it forms a paste.
Add the mayonnaise, olive oil, oregano, vinegar, pepper. Add a pinch of sugar IF you opt to rise pickled red onions instead of fresh.
Add everything else, toss gently to coat. Serve immediately.
Notes
You can change every single ingredient to fit your flavor palette. Use Frisée instead of the iceberg; use any combination of vinegar; add a little dollop of anchovy paste to the dressing; use Romano or any other dry Italian cheese, like Asiago; use spicy croutons. You can French it up with shallots, carrots, and slivers of celery.
Prep Time:

15 minutes

Category:

salad

Cuisine:

Italian
Keywords: Italian, salad, dressing, vinegar, croutons
---
Do you Have Questions About the Best Italian Salad?
Should I put sugar in my salad dressing?
Probably. Sugar is like any other ingredient: Use a lot and it stands out; use a little and it affects the overall flavor without being noticed. In a dressing, a pinch of sugar balances the acidity of vinegar or lemon juice, without affecting the broader flavor profile.
Is Italian salad good for you?
Yes. All those fresh vegetables are very good for you. The homemade dressing of garlic, oil, and mayonnaise has fewer calories and less fat than store-bought creamy Italian dressings.
What is the best salad to go with lasagna?
A simple Italian salad is zesty, crunchy, and cool—all opposite of lasagna, which is hearty, toothsome, and hot. The balance is perfect. You won't need anything else for your meal.
---
© Photos/ iStock
This post is not intended to substitute for medical advice or prescribed medication. Especially if you have special health needs or a special diet, consult a physician before undertaking any new diet or exercise plan.
The author has not been compensated for any of the products mentioned in this post. In some cases, we may earn a small affiliate fee from certain links, including Amazon and the Health Food Radar shop. This helps compensate our staff for their time. Thanks for supporting us by clicking on the links!
Statements made on this website have not been evaluated by the U.S. Food and Drug Administration. Any information or products are not intended to diagnose, treat, cure, or prevent any disease. Information provided by this website or this company is not substitute for individual medical advice.