The FODMAP diet requires eliminating high FODMAP foods to give the gut a chance to reduce the symptoms associated with their consumption.
While not necessarily life-threatening, digestive issues from food like bloating, gas, diarrhea, and abdominal pain can be majorly distracting in a person's day-to-day life. It's pretty well established what makes up a healthy diet for optimal health (including digestion) for most people. However, on an individual level, it isn't always that straightforward. The FODMAP diet is an evidence-backed way of managing the above distressing symptoms related to irritable bowel syndrome (IBS) and potentially other gastrointestinal (GI) disorders.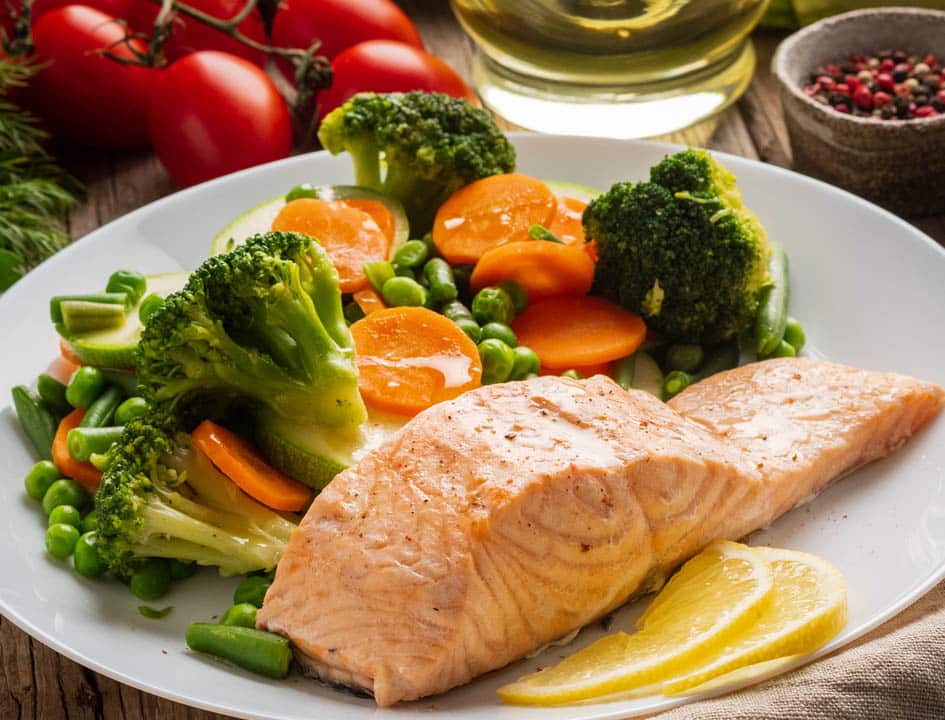 What is the FODMAP diet?
A "FODMAP diet" is technically a "low FODMAP" diet, since it requires eliminating or reducing foods that are high in FODMAPs. Bear in mind that this type of diet is not a long-term solution but rather a temporary method for reducing unpleasant digestive issues.
FODMAP stands for fermentable oligosaccharides, disaccharides, monosaccharides, and polyols. The idea of a low FODMAP diet is to completely eliminate foods that contain the above compounds and then reintroduce FODMAP-containing foods one by one to identify trigger foods — the things that cause the uncomfortable symptoms.
It's important to note that it is NOT a weight loss diet but is more so a "food as medicine" approach for digestive conditions like irritable bowel syndrome (IBS) and small intestine bacterial overgrowth (SIBO).
Many people wouldn't consider an avocado to go against any diet rules. Aren't they supposed to be a superfood? However, in the FODMAP diet, some of the foods necessary to eliminate this diet are also considered healthy foods, so it may be challenging to comprehend and adhere to for the general population. This highlights the importance of seeking professional advice from a doctor or registered dietician before starting a FODMAP diet.
Background: Understanding Digestive Issues
You can't talk about digestion without mentioning gut health. In recent years, researchers and medical professionals have gained more insight into the tiny yet fascinating ecosystem of live bacteria in our intestinal tract — the gut microbiome.
Without going into too much detail, the gut maintains a delicate balance of good and bad bacteria, and how well this is maintained dictates a few health outcomes like digestion.
It's estimated that between 25 to 45 million Americans suffer from IBS. IBS can cause cramping, bloating, gas, pain, and diarrhea. The exact cause of IBS isn't well defined, but we do know that the composition of someone's gut microbiota is directly related to symptoms of IBS.
SIBO elicits similar symptoms to those of IBS, but the issue is in the small intestine. SIBO may also contribute to unexplained weight loss and nutrient deficiencies since nutrients are not properly absorbed in the small intestine.
The Evidence Behind the FODMAP Diet
The good news is that research indicates that up to 86% of people treated for IBS and SIBO with the FODMAP diet experienced symptom improvement, according to a review of the evidence in 2017.
Notably, the most recent meta-analysis study on this issue utilized the findings from 13 randomized controlled trials (RCTs) and found that the low FODMAP diet improved abdominal pain severity, abdominal bloating or distension severity, and bowel habits the most compared to both a normal healthy diet and a gluten-free diet.
Foods to Avoid on the FODMAP Diet
Since the low FODMAP diet is about identifying trigger foods, this can be thought of in three steps:
Elimination: The first and perhaps the most painful (mentally) part of the diet is to stop consuming all high-FODMAP foods.
Reintroduction: This step involves reintroducing FODMAP foods one by one to see if any symptoms are experienced per food.
Personalization: Ideally, this is when the magic happens. Once you and your provider have discovered and assessed trigger foods, you can develop a plan moving forward.
During the elimination phase of the FODMAP diet, it is important to avoid foods that are high in FODMAPs. These include:
Oligosaccharides (wheat, rye, onions, garlic, legumes, and some fruits like apples and pears)
Disaccharides (milk, yogurt, and soft cheeses)
Monosaccharides (honey, high fructose corn syrup, and some fruits like mangoes and watermelons)
Polyols (certain fruits with pits like cherries and peaches, as well as sugar alcohols like sorbitol and mannitol)
Eliminating these high FODMAP foods gives the gut a chance to heal and reduce the symptoms associated with their consumption.
Foods to Include on the FODMAP Diet
While there are many foods to avoid on the FODMAP diet, there are also plenty of delicious and nutritious options that you can include in your meals. Some low-FODMAP foods that you can enjoy include:
Vegetables like carrots, cucumbers, bell peppers, spinach, kale, and zucchini;
Some Fruits such as bananas, grapes, oranges, strawberries, and blueberries;
Proteins including chicken, turkey, fish, tofu, and eggs;
Grains like gluten-free oats, quinoa, and rice;
Dairy alternatives such as almond milk, lactose-free milk, and dairy-free yogurts.
Tips for Success on the FODMAP Diet
Following the FODMAP diet can be challenging and even put someone at risk for nutrient deficiencies and unintended weight loss, but with the right strategies, this diet can be a game changer for those suffering from digestive problems. Here are some tips to help you (or someone else) navigate the FODMAP diet:
Work with a registered dietitian (RD): A dietitian can provide personalized guidance and support throughout your journey. They can help you create a meal plan, identify trigger foods, and ensure you're meeting your nutritional needs.
Keep a food diary: Track your food intake and any symptoms you experience. This will help you identify patterns and pinpoint specific trigger foods in the reintroduction stage.
Research low-FODMAP recipes: There are many resources available online that provide delicious low-FODMAP recipes. Experiment with different dishes and find ones that suit your taste preferences.
Be patient and persistent: The FODMAP diet is a process that requires time and effort. It may take several weeks or even months to fully identify your trigger foods and develop a personalized diet plan. Just remember that the FODMAP diet is not meant to be followed indefinitely. It is a temporary elimination and reintroduction process aimed at identifying trigger foods. Once you have identified your triggers, you can reintroduce and consume the FODMAPs you tolerate well.
Experiment with portion sizes: Sometimes, it's not the entire food group that triggers symptoms, but rather the portion size. Experiment with different portion sizes to see if you can tolerate small amounts of certain FODMAPs.
Be mindful of hidden FODMAPs: FODMAPs can be found in unexpected places, such as condiments, sauces, and processed foods. Always read food labels carefully and be aware of hidden sources of FODMAPs. For example, polyols, often referred to as sugar alcohols, frequently sneak into processed foods. Look for anything on the ingredient list ending in an "ol" to determine if there are polyols in that product.
Wrapping Up
The FODMAP diet is supported by a growing body of research, which further validates its effectiveness. While the foundational research is strong for treating IBS and SIBO, more solid research is needed on different digestive issues. It isn't the easiest of diets to follow but with proper guidance, planning, and patience, a low FODMAP diet can be life-changing for those who regularly struggle with digestive issues.
If you are experiencing any GI problems, it's a good idea to check with a health professional, ideally a dietician, to determine if the FODMAP diet could help alleviate some of your discomforts. Everyone deserves to be able to enjoy food without stressing about the repercussions of eating!
---
The information provided on Health Food Radar is intended for general informational purposes only. While we strive to offer accurate and up-to-date content, we do not provide medical advice, diagnosis, or treatment. Always consult with a qualified healthcare professional before making any dietary or lifestyle changes, especially if you have underlying health conditions or concerns.