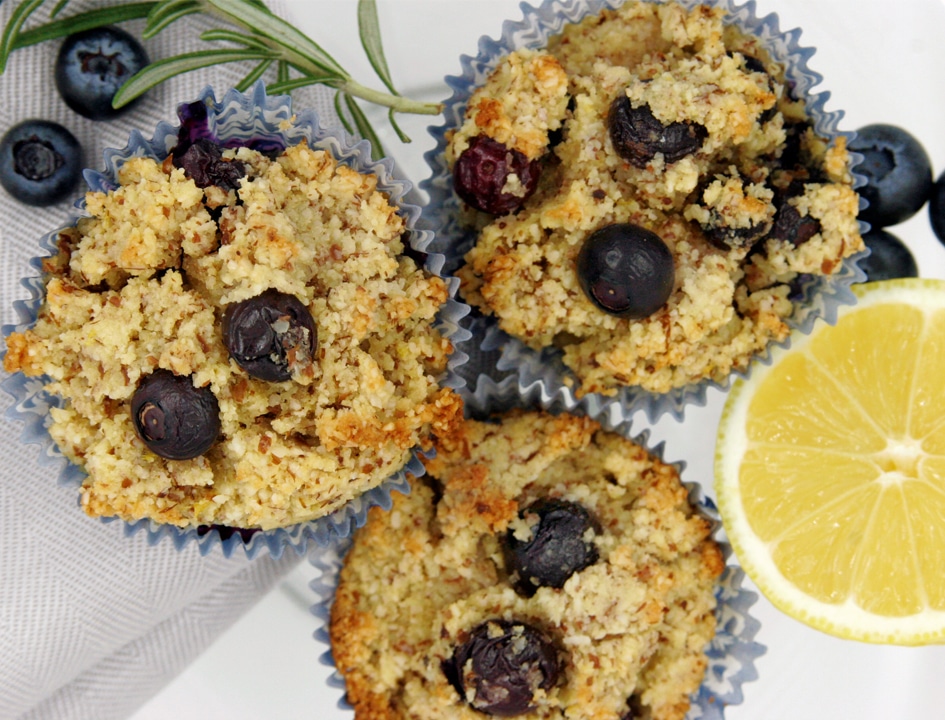 Paleo blueberry lemon zested muffins.
What is Paleo? It is said to be the diet of our long-ago ancestors, way long ago: in other words, the caveman (and woman). It is a diet focused on lean meats, seafood, fruits, vegetables, nuts and seeds, and healthy fats. A paleo-friendly diet avoids dairy, grains, legumes, processed foods and sugars, and alcohol. While I don't entirely agree that you must avoid all those items all the time – legumes are actually very good for you – there is much research to support the health benefits of a paleo diet and some people find that the diet works well for them.
For example, following the paleo diet can create a healthy balance of good fats in the body, in part because of the diet's emphasis on eating fish, especially salmon, and lean proteins humanely raised without antibiotics and hormones. The paleo diet also restricts sugar, which can cause an imbalance of unhealthy bacteria in the gut, and thus improves gut health. For some people, the paleo diet can reduce inflammation by reducing the consumption of dairy and gluten, which are known to be allergens to many people.
There appear to be many sacrifices on the paleo diet, however. One food that many people really miss when eating a paleo-friendly diet is baked goods, like muffins and breads. But a few substitutions can be made so that even the die-hard paleo dieter has the ability to enjoy muffins for breakfast sometimes. Even if you aren't following a paleo diet, food variety is healthy because it helps you eat foods with many different nutrients. Plus, these muffins are simple and delicious!
Print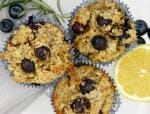 Paleo Blueberry Lemon Zested Muffins
---
Total Time:

50 minutes

Yield:

12

Muffins

1

x
2 1/4 cup almond meal
1/4 cup coconut flour
1/2 tsp baking soda
lemon zest from 2 lemons
2 eggs
1/3 cup maple syrup
1/4 cup melted coconut oil
1 tsp vanilla extract
1/4 cup lemon juice
1 cup blueberries
---
Instructions
Preheat oven to 350 degrees F.
Use nonstick spray or muffin liners in a muffin tray.
Combine dry ingredients in a mixing bowl.
Add wet ingredients to the bowl. Stir well until all ingredients are wet and blended.
Gently fold in the blueberries ensuring they are evenly distributed throughout the batter.
Fill each muffin cup with batter.
Bake for approximately 25 minutes or until a toothpick inserted in the center comes out clean.
Prep Time:

20min

Cook Time:

30min
Photo ©Health Food Radar
This post is not intended to substitute for medical advice or prescribed medication. Especially if you have special health needs or a special diet, consult a physician before undertaking any new diet or exercise plan.
The author has not been compensated for any of the products mentioned in this post. In some cases, we may earn a small affiliate fee from certain links, including Amazon and the Health Food Radar shop. This helps compensate our staff for their time. Thanks for supporting us by clicking on the links!
Statements made on this website have not been evaluated by the U.S. Food and Drug Administration. Any information or products are not intended to diagnose, treat, cure, or prevent any disease. Information provided by this website or this company is not substitute for individual medical advice.