Escabeche vegetable salad is a quick pickle of carrots, cauliflower, garlic, and onions. It's on every table in good Mexican restaurants.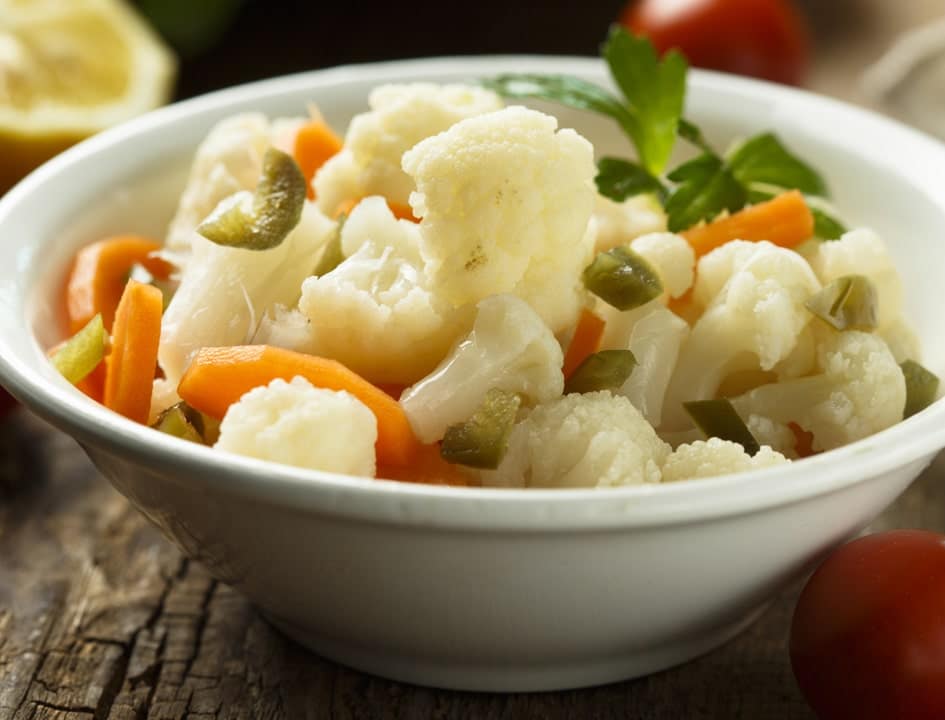 Mexican Pickles are a Staple That's Never the Same
If you are from Mexico, you already know escabeche. You grew up with it. Your mom keeps a service container full of it in the fridge. You put a little on your plate every meal, and sometimes you just dig into the Tupperware for a snack, a spicy nugget of pickled cauliflower, a slice of hot carrot, or an onion. Of course, you probably don't call it escabeche, you probably just call it hot carrots and hot peppers en vinagre picosso. If you are not Mexican, you will be in a minute.
Escabeche is a simple dish: mostly sliced carrots, cauliflower florets, sliced onions, and sliced jalapenos pickled in white vinegar. Unless it's the other classic escabeche, which is sliced carrots, cauliflower florets, sliced onions, sliced jalapenos, garlic, and radishes pickled in white vinegar. Which is almost identical to the other other classic escabeche: cauliflower florets, sliced onions, sliced jalapenos, garlic, radishes, and sliced kielbasa pickled in white vinegar.
If you're looking for an escabeche definition, it's easy: vegetables marinated in an acidic sauce sometimes with fish. Or chicken. Or pork. Mexican escabeche is a variation of Spanish or Portuguese escabeche, which is a descendant of the Persian dish al-sikbaj — and none of this really matters because you should make yours the way you want.
However, Mexican Escabeche Salad Has a Basic Recipe
Start with the classic version then add whatever you want. And look, don't freak out. This is easy stuff. I know it says pickles and I know you get intimidated by pickles, but trust me, you can do this. And look, there will be quantities in the recipe below. But they are not set in stone. Just get a jar or a service container or a nice fat Tupperware. Slice a carrot or two. Slice an onion. Slice a jalapeno. Sauté your carrots and your cauliflower for a couple of minutes. Toss in the onions and the garlic for a couple more minutes. Now pour in the vinegar and stir. Cook for three minutes then let cool. Pour it all into the container. Boom. Escabeche.
Escabeche Vegetable Salad: Now for the Variations
They are endless. There are no rules. You do you. However, here are some tried and true additions to classic escabeche vegetable salad. All of the following are sliced thinly:
Radishes
Bell peppers
Poblano peppers
Serrano peppers
Baby corn
White beans (cannellini)
Print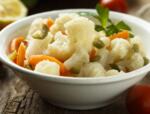 Escabeche Vegetable Salad
---
Author:

Total Time:

25

Yield:

3

jars

1

x
Description
Escabeche is pickled vegetables that are carrot forward and cauliflower centric. Spicy, savory, and simple to prepare, this Mexican tabletop staple will become a big hit with your family and friends. This is my personal version, which includes fancy radishes and jiacama.
---
3

16

–

oz

. glass jars or two large service container if you're that kind of person

1

cup

of sliced carrots

2

cups

cauliflower florets, separated

1

bunch of French breakfast carrots, sliced on the bias

1

jalapeno, sliced on the bias, seeds removed

1/2

cup

of jicama sliced into matchsticks

4

to

6

whole garlic cloves, peeled

3

small bay leaves or

2

large bay leaves

1 tablespoon

of sugar

1 teaspoon

of salt-or more depending on your taste

1 teaspoon

of peppercorns (mix it up with pink, green, etc)

1

cup

vinegar

2

cups

water
---
Instructions
Evenly divide the bay leaves, peppercorns, garlic, jicama, radishes, carrots, and cauliflower into the three jars
In a small pot, combine the vinegar, salt, and sugar. Bring to a boil then reduce to a simmer until the sugar dissolves. Pour over the vegetables in the jars.
Allow to cool to room temperature before sealing and refrigerating; try to let it sit overnight to let those flavors get to know each other. But if you can't wait that long, at least wait an hour or so. 
Notes
Keeps up to three weeks but you'll probably eat it long before then.
There are two schools of escabeche cooking: The method described in this recipe where you don't sauté anything, and the one described in the article, where you give your carrots and your onions a quick run across a hot pan to soften them up a little. Try it both ways.
Prep Time:

20

Cook Time:

5

Category:

salad

Method:

pickled

Cuisine:

Mexican
Keywords: escabeche, pickled vegetables, salads, side salad, garnish, Mexican food, carrots
Please note: Nutrition facts and calories per serving are approximate.
© Photos/ iStock
---
The information provided on Health Food Radar is intended for general informational purposes only. While we strive to offer accurate and up-to-date content, we do not provide medical advice, diagnosis, or treatment. Always consult with a qualified healthcare professional before making any dietary or lifestyle changes, especially if you have underlying health conditions or concerns.