Here's a delicious and easy sugar cookie decorating recipe without all those unrecognizable ingredients.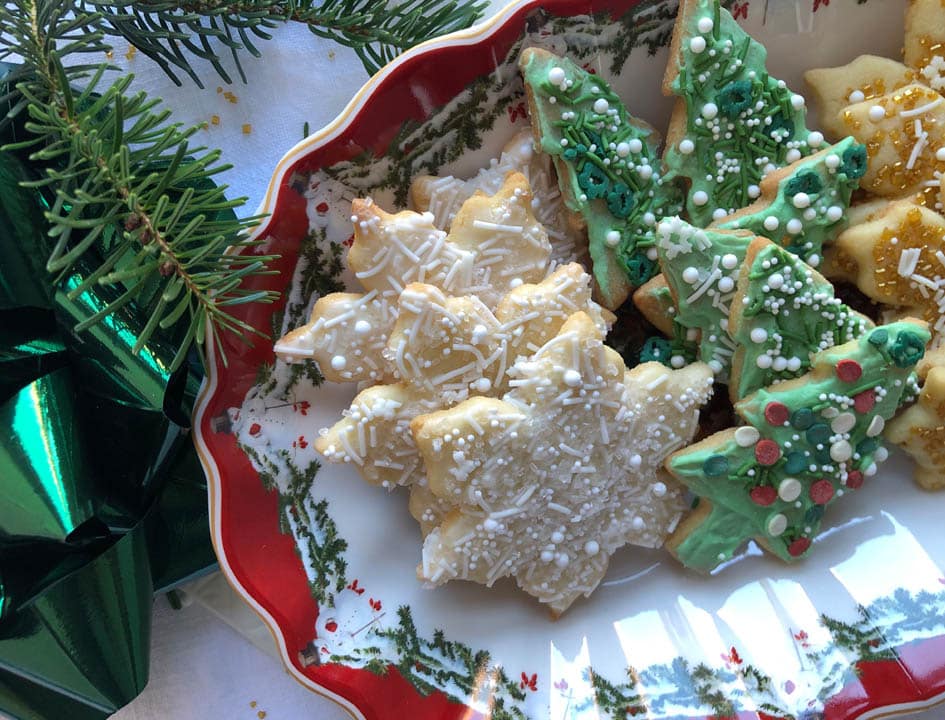 The flour I use is organic and unbleached. Last month my (other) favorite food blog ran a butter taste test, so I made sure to pick up plenty for holiday baking. And the most precious ingredient of all — my time — is scheduled to the nth degree so that I can spend at least one day each year doing nothing but baking and decorating cookies.
But this year, I am doing things a bit differently. I decided to go clean and natural with cookie decorations — especially once I read the labels on the craft store sprinkles hiding in my kitchen cabinet. After being so meticulous about what goes in my cookies, why use decorations with all those unnatural ingredients?
A Sparkly Surprise
I stocked up on natural decorative sugar crystals from Color Garden (found at All Ways Healthy) and, when I saw the cheeky new holiday sprinkles from Supernatural Kitchens, I asked them to send me a sample to try. Supernatural's product is soy-free and made without palm oil or artificial dyes.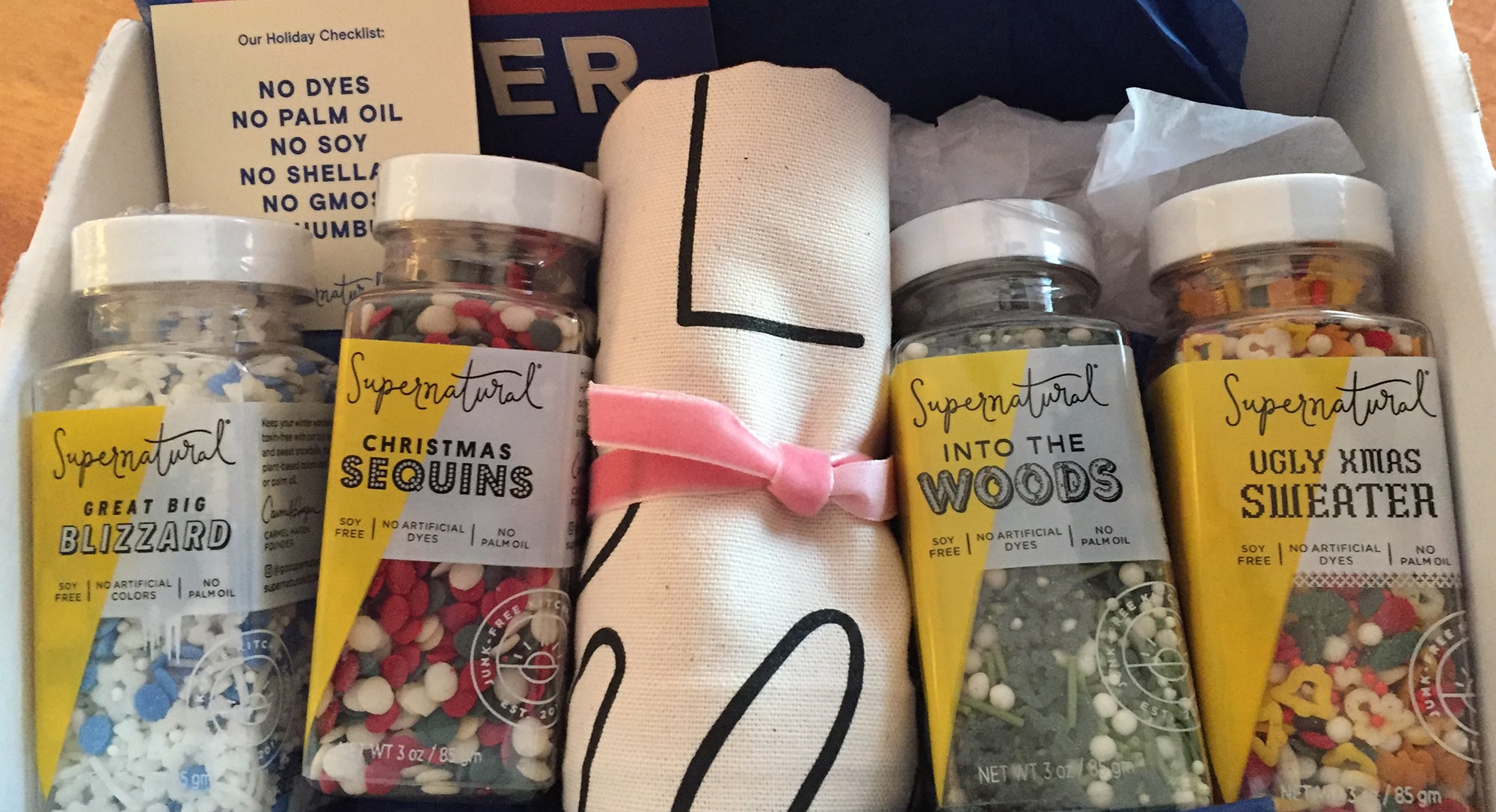 Confession: I usually stick to a strict color palette for holiday cookie decorating: white. So, I had only planned to use Supernatural's "Great Big Blizzard" variation. Made of white-and-blue nonpareils, jimmies, and sequin shapes, I thought it would be a nice match for my great big snowflake cookies. Creative — but not too wild. Then I saw the rest of the Supernatural sprinkles, with names like "Into the Woods," "Christmas Sequins," and "Ugly Xmas Sweater" — and how could I resist? After 15 years, it was time to get out of my white-on-white cookie rut.
(Due to the Great Food Coloring Debacle of Christmas 2007, the kitchen and children have been restricted to baking snowflake-shaped sugar cookies decorated in white.)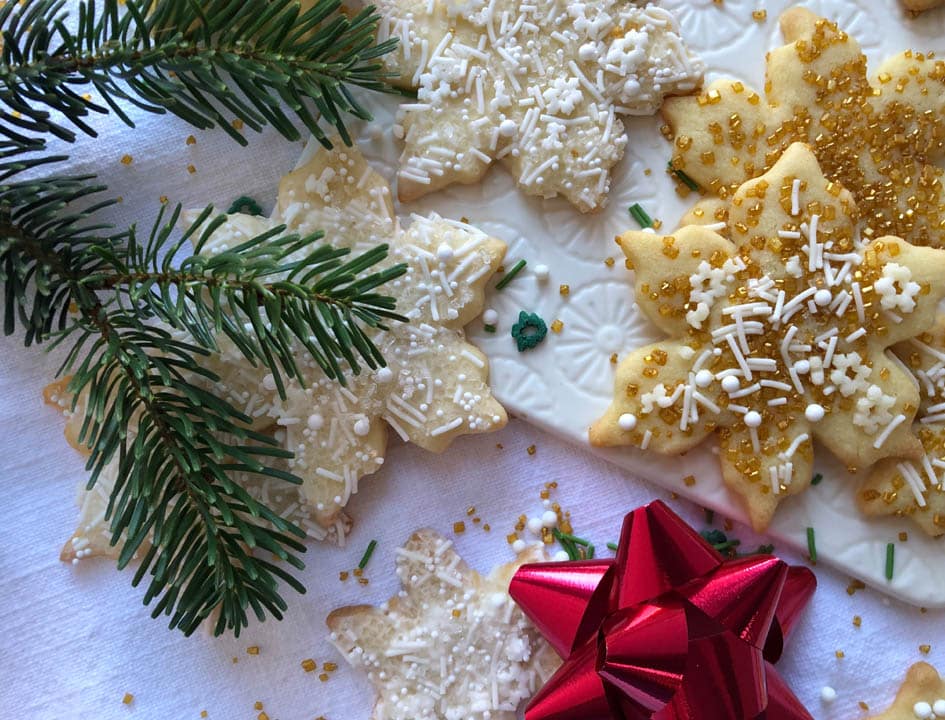 A Punch of Flavor
With the colored sprinkle palette expanded, I decided to punch up the sugar glaze and experiment with freeze-dried fruit in the cookie glaze instead of food coloring. I've used freeze-dried strawberries and raspberries in buttercream fillings for cakes (yum), and love the intense flavor freeze-dried fruit adds. So, I played around with a recipe from the holiday 2019 issue of Sift magazine to create a mango-flavored gold glaze. (Yes, gold qualifies as a wacky color upgrade for me.)
Below, you'll find the traditional sugar cookie recipe and mango glaze recipe that I'll be rolling out for Christmas this year. If you are a citrus fan, add lemon zest to the sugar cookie recipe. It's a fantastic combination with the bright, tart mango glaze. After tasting my test batches, photographed here, I was pleasantly surprised to find the sugars and sprinkles actually tasted good, too. What a difference!
How to Make a Mango Glaze
A bright, tart glaze for cookies, using freeze-dried fruit.
Ingredients:
2 c. Powdered Sugar (preferably organic), sifted
½ c. crushed freeze-dried mango (available at Trader Joe's)
2 T. corn syrup
4 to 5 T. milk
Instructions:
Crush the mango and put it through a fine-mesh sieve to remove lumps. Combine with sifted powdered sugar in a medium bowl.
Add corn syrup and 2 T. milk and stir to combine. Add additional milk until the mixture is still thick, but spreadable. (It should pool and disappear when you lift up a spoon and let it drizzle back into the bowl.
You may want to test the glaze on a test cookie to make sure it dries and hardens. If not and it remains sticky, add more powdered sugar.
Here are Some Tips for This Easy Cookie Decorating Recipe
Snowflakes
All kidding aside, snowflake shapes are beautiful and make for a great-looking cookie tray. Use different sizes (available from King Arthur Flour). Dip the cookies in a white glaze and sprinkle with coarse white sugar. For variation, you can also use white nonpareils or white jimmies. Also, snowflakes do look great with Supernatural's "Great Big Blizzard" or Color Garden's blue decorating sugar. Bonus: Even little kids can help with this and feel like artists — though these may bore older kids, who may or not accuse you of being a control monster.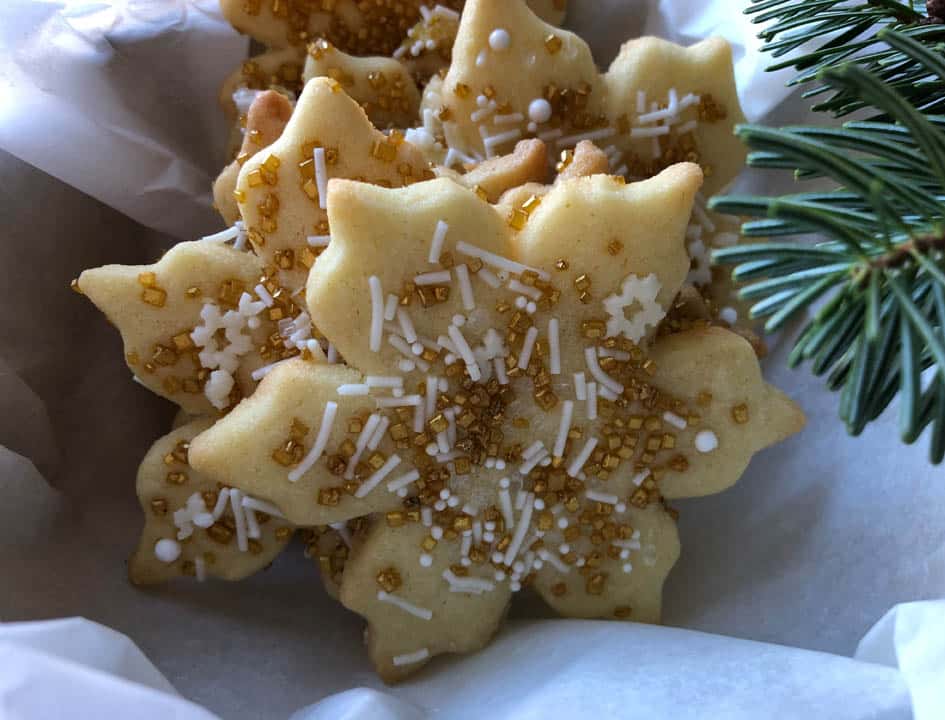 Snowballs
Again using circle cookies, glaze the entire cookie then sprinkle with either SuperNatural "Great Big Blizzard" or all-white nonpareils or jimmies. Fun for little kids, too.
"Half-and-Half" Circles
If you don't have cookie cutters or are time-stressed, use a glass or biscuit cutter to make simple circle cutouts. Once the cookies are baked and cooled, spread your glaze over on the cookie, but only sprinkle sugar or sprinkles over half of the cookie, leaving the other half bare, glaze only. This works great with busy sprinkle mixes, too — especially Supernatural's "Christmas Sequins" and "Ugly Xmas Sweater." Bonus: Nobody wants to eat that much sugar or sprinkles on a cookie. This is a good balance of cookie and topping, especially with a flavored glaze.
Christmas Trees
For this cookie decorating recipe, leave the trunk bare and glaze the top portion of the tree with Supernatural "Into the Woods" sprinkles. To create the kind of tree the birds decorated on "Rudolph" — use "Christmas Sequins" or traditional red-green-white nonpareils.
Gingerbread People
This is where the Supernatural mixes get super fun. Use "Ugly Xmas Sweater" to create, well, an ugly Christmas sweater on your man. Use sequins shapes for eyes and nose or buttons. And if you run out of holiday colors in your pantry, keep in mind that Gingerbread people LOVE going to the beach and their swimsuits can be any crazy color at all!
Print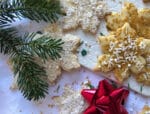 Sugar Cookies Recipe
---
Author:

Total Time:

1.5 Hours

Yield:

1

2

1

x
Description
A traditional sugar cookie — the perfect balance of tender and chewy but still tough enough to stand up to your icing and decorations.
---
2 1/2 c. All Purpose Flour, preferably unbleached (11.25 oz.)
3/4 c. Sugar
1/4 t. Kosher Salt
1 c. Unsalted Butter (2 4-oz. sticks), cold and divided into large chunks
2 Egg Yolks
1 1/2 t. pure Vanilla extract
---
Instructions
Add the flour, sugar and salt to the bowl of your stand mixer. Mix on low just until the ingredients are combined (about 30 seconds). 
Add the butter. Mix on low speed until the butter forms small chunks, the size of peas (about 3 minutes). 
Whisk the egg yolks and vanilla together in a small bowl. Add to the butter mixture and mix on low to combine. Raise the speed to medium and mix until the dough comes together in large chunks.
Turn the dough onto a work surface (a clean counter or marble pastry board) and knead briefly until the dough just comes together. Don't overwork. Divide the dough in two pieces, form a flat disc and wrap in plastic wrap. Refrigerate for about 30 minutes before using.
Remove the dough from the refrigerator. If it is not pliable, let it sit to warm up for a few minutes. Roll out one disc on a lightly floured surface until it is approximately a quarter inch thick, or thicker depending on your preference. (I like to roll out my dough between two pieces of parchment or plastic wrap). Repeat with second disc. (Be sure to scrape up scraps and reroll them for more cookies.)
Preheat the oven to 375 degrees. Place parchment paper on your cookie sheets.
Use your favorite cookie cutters to cut out cookie shapes — dip the cutters lightly in flour so the dough doesn't stick.
Place the cookies on the cookie sheets, at least one to two inches apart. If desired, decorate with sugar now, or decorate after baking. Bake for 12-14 minutes on the middle rack of the oven, rotating half way through the baking time so the dough bakes evenly. 
Cool completely before decorating.
Notes
Lemon Variation: Add 2 teaspoons of freshly grated lemon zest to the flour mixture in step 1. Reduce the vanilla to ½ teaspoon.
*At this point, you can stop, ask your children or spouse or significant other to clean the kitchen, and refrigerate your dough overnight.
Prep Time:

1 Hour

Cook Time:

12-14 Minutes

Category:

Desert

Method:

Bake

Cuisine:

American
Keywords: traditional sugar cookie, natural sprinkles, snowflake cookies
Cook time may vary. Decorating time may vary.
This post is not intended to substitute for medical advice or prescribed medication. Especially if you have special health needs or a special diet, consult a physician before undertaking any new diet or exercise plan.
The author has not been compensated for any of the products mentioned in this post. In some cases, we may earn a small affiliate fee from certain links, including Amazon and the Health Food Radar shop. This helps compensate our staff for their time. Thanks for supporting us by clicking on the links!
Statements made on this website have not been evaluated by the U.S. Food and Drug Administration. Any information or products are not intended to diagnose, treat, cure, or prevent any disease. Information provided by this website or this company is not substitute for individual medical advice.