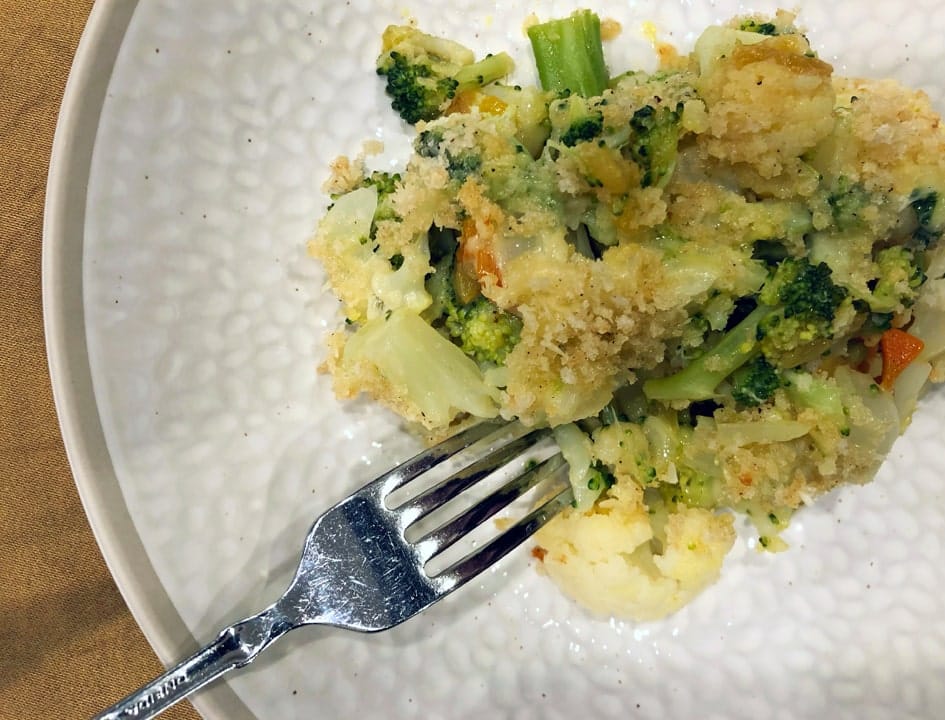 I could eat broccoli every night of the week. Steamed as the side with a little salt and pepper, or piled on top of a baked potato with a sprinkling of cheddar cheese. Roasted or stir-fried. But, yes, broccoli can get boring. So, I set out to create a new cheesy broccoli cauliflower casserole dish that combines broccoli with its popular cousin, cauliflower.
Next-Level Cheesy Broccoli and Cauliflower Casserole
This great cheesy broccoli and cauliflower casserole recipe is inspired by my wife's creamy 1980s style Chicken Divan — without the Campbell's soup — and the Cheddar Potatoes Au Gratin recipe she makes from Sarah Leah Chase's "Cold-Weather Cooking," which uses broth instead of cream and caramelized onions for rich flavor.
Our casserole recipe is great for the winter or early spring — and it is filling, so it can be eaten as a main course or as a side. (It's pretty great with roast chicken.)
There's some prep involved in the recipe, but the hardest part is cutting the broccoli and cauliflower into the same size florets. Other than that, it's pretty easy. The complete recipe is included below.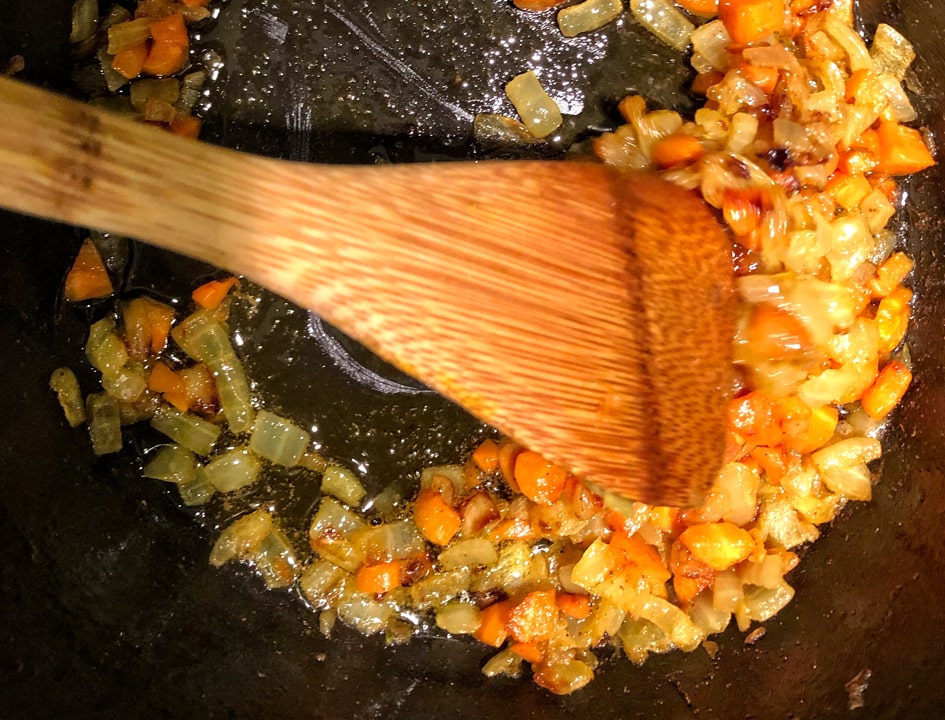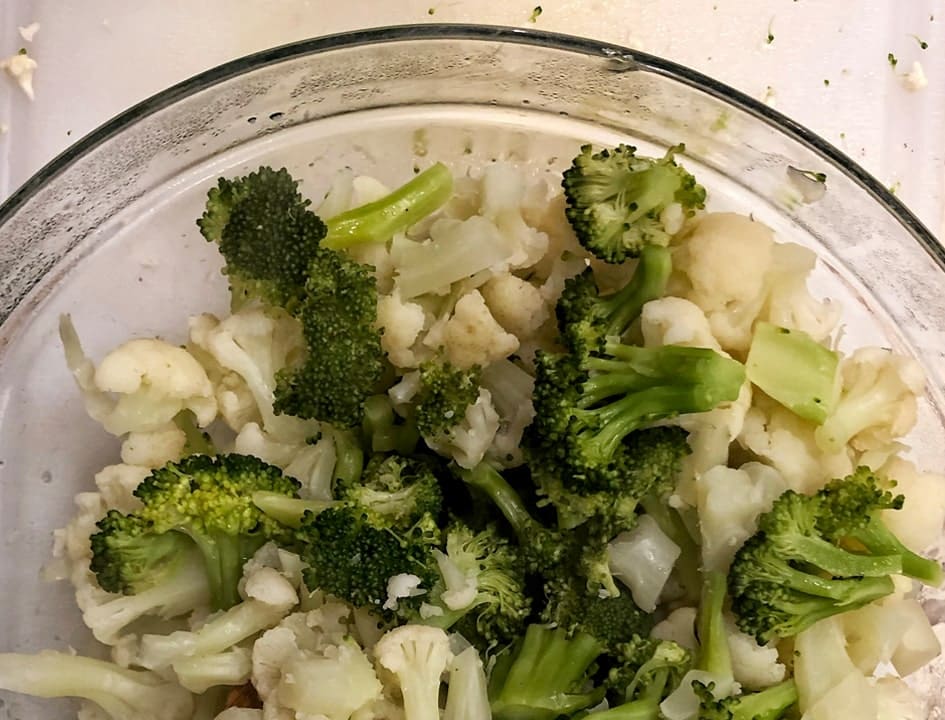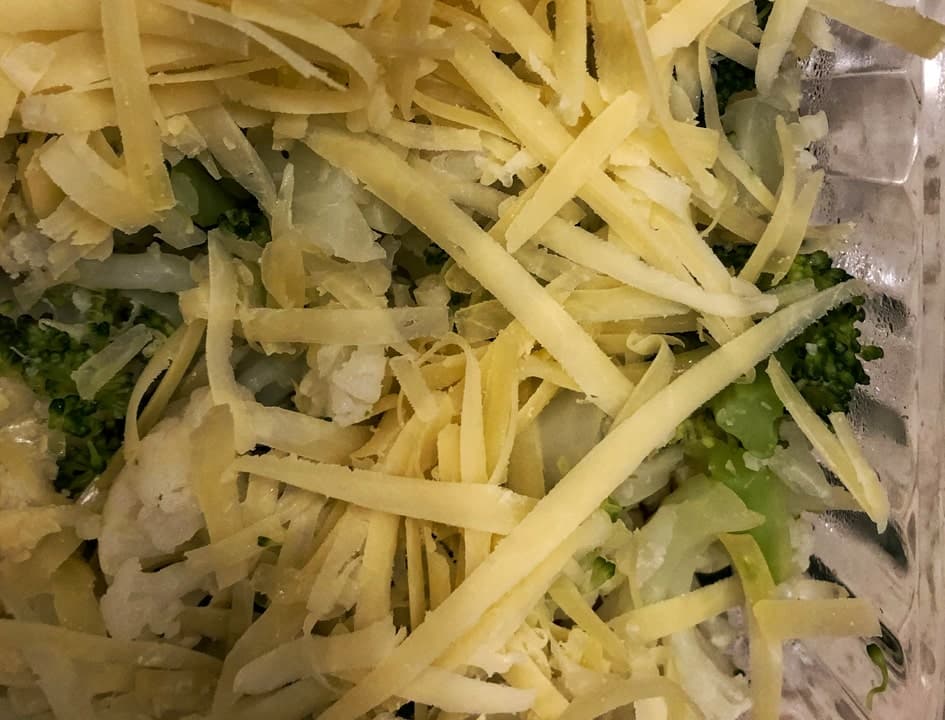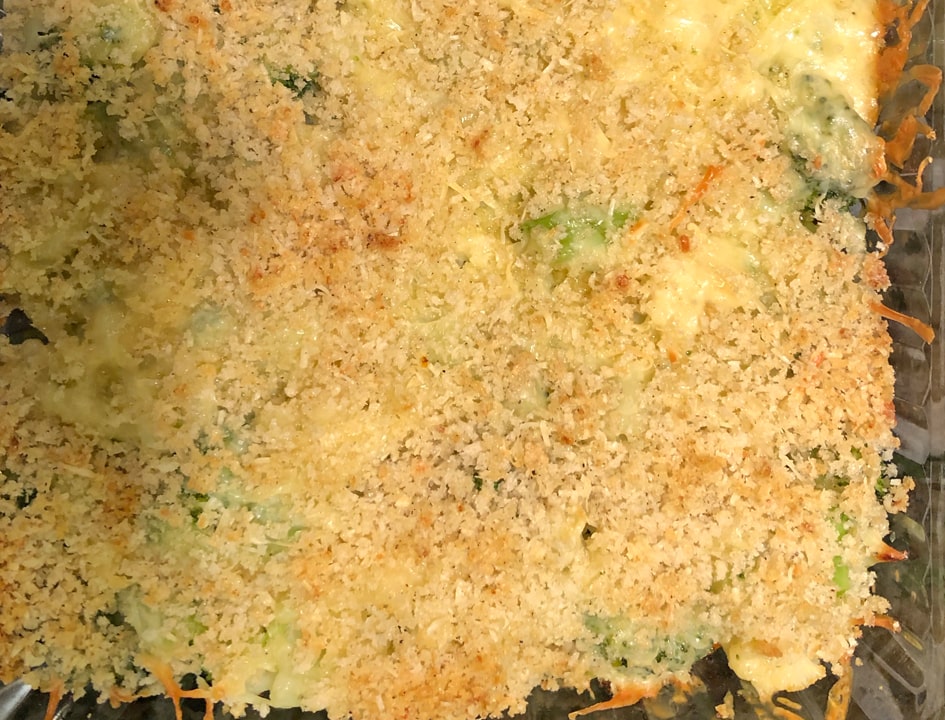 By layering caramelized onions, vegetables, and cheese you create a real depth of flavor.
This cheesy broccoli cauliflower casserole also keeps well in the fridge for up to three days. I thought it tasted even better the next day!
Let's Talk Nutrition: This Recipe is Worth the Effort
Broccoli and cauliflower are vegetables you either love or hate. From what I understand, it's better to love them. Broccoli is one of the most healthy vegetables you can possibly eat. Among its many nutrients and vitamins, including fiber and protein, are vitamin C, vitamin K, iron, and potassium.
One cup of broccoli has about 31 calories, 2.5 g. of protein and the carbs are low, coming in at 6 g., with 1.5 g. of sugar, 2.4 g. of fiber, and pretty much zero fat. If you steam it, as in this recipe, it keeps more of its health benefits. Other plant compounds include Quercetin, which may lower blood pressure, and Kaempferol, an antioxidant with many benefits like protection against heart disease, cancer and inflammation.
Cauliflower is part of the kale, cabbage, and broccoli family. One cup of cauliflower florets has about 54 calories. 4.2 g. of protein, 6 g. of fat, 10.6 g of carbohydrates, 4.2 g. of fiber, and 4 g. of sugar. It also is an excellent source of vitamin C and K.
So let's get started on this healthy cheesy broccoli cauliflower casserole recipe. I know you're going to love it.
Print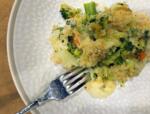 Cheesy Broccoli Cauliflower Casserole
---
Author:

Total Time:

1 hour
Description
Carmelized onions lightly spiced with Turmeric and Coriander meld with steamed broccoli and cauliflower florets, layered with plenty of cheddar cheese and a crunchy Panko and parmesan topping, for a delicious side dish or main course. 
---
1 Medium sweet yellow onion, diced
1 Medium Carrot, diced
1/3 c. Olive oil
1/2 t. Ground Turmeric
1/4 t. Ground Coriander
1 Bay leaf
1 Head of broccoli, chopped into one-inch florets
1 Head of Cauliflower, chopped into one-inch florets
1/2 c. Broth (vegetable or chicken)
3 c. Shredded white cheddar cheese or cheese of your choice*
1/2 c. Panko bread crumbs (regular or gluten-free)
1 T. Butter, melted
1/4 c. Grated Parmesan cheese
Salt and pepper
---
Instructions
Preheat oven to 350 degrees. Use a 9-inch square (2-3 qt.) glass pan or casserole dish, at least three inches deep.
Heat 1/3 cup of oil in a heavy-bottomed pan or casserole. Add the chopped onions and carrots. Simmer over medium heat, stirring, for approximately 8-10 minutes until the onions begin to look transparent. Add bay leaf, Turmeric, coriander, and a half teaspoon each of salt and pepper. Stir and simmer over low heat until onions are gooey and tender, golden but not burnt, about 10 to 15 minutes more. 
Meanwhile, steam the broccoli and cauliflower until just tender; do not overcook. Combine in a large bowl, adding a pinch of salt and pepper. 
Spread half of the onion mixture in the bottom of the baking pan. Add half the vegetable mixture, then top with half the grated cheddar cheese. Repeat, with the rest of the onions, then vegetables and remaining cheese.
Drizzle all over with the ½ cup of broth. Season lightly with salt and pepper.
For the topping, in a small bowl combine the melted butter, Panko, parmesan and a few grinds of black pepper until well blended.
Sprinkle the topping evenly on top of the casserole.
Bake for 25 minutes in a 350-degree oven until the casserole light golden brown on top and bubbling.
Notes
I use sharp white cheddar, but you can use any combination of cheeses you like. Try Monterey Jack and Colby or Mild Cheddar, or combine Cheddar with Gruyere for a traditional take on mac and cheese. If you are dairy-free you can use your favorite plant-based cheese.
Prep Time:

35 minutes, including steaming vegetables.

Cook Time:

25 minutes

Category:

Side Dish

Method:

Baking

Cuisine:

American
Keywords: broccoli, cauliflower, casserole, recipe
Image © Health Food Radar
This post is not intended to substitute for medical advice or prescribed medication. Especially if you have special health needs or a special diet, consult a physician before undertaking any new diet or exercise plan.
The author has not been compensated for any of the products mentioned in this post. In some cases, we may earn a small affiliate fee from certain links, including Amazon and the Health Food Radar shop. This helps compensate our staff for their time. Thanks for supporting us by clicking on the links!
Statements made on this website have not been evaluated by the U.S. Food and Drug Administration. Any information or products are not intended to diagnose, treat, cure, or prevent any disease. Information provided by this website or this company is not substitute for individual medical advice.