Can our spinach and ricotta stuffed shells measure up to Grandma Maria's version with meat gravy simmering all day on the stove?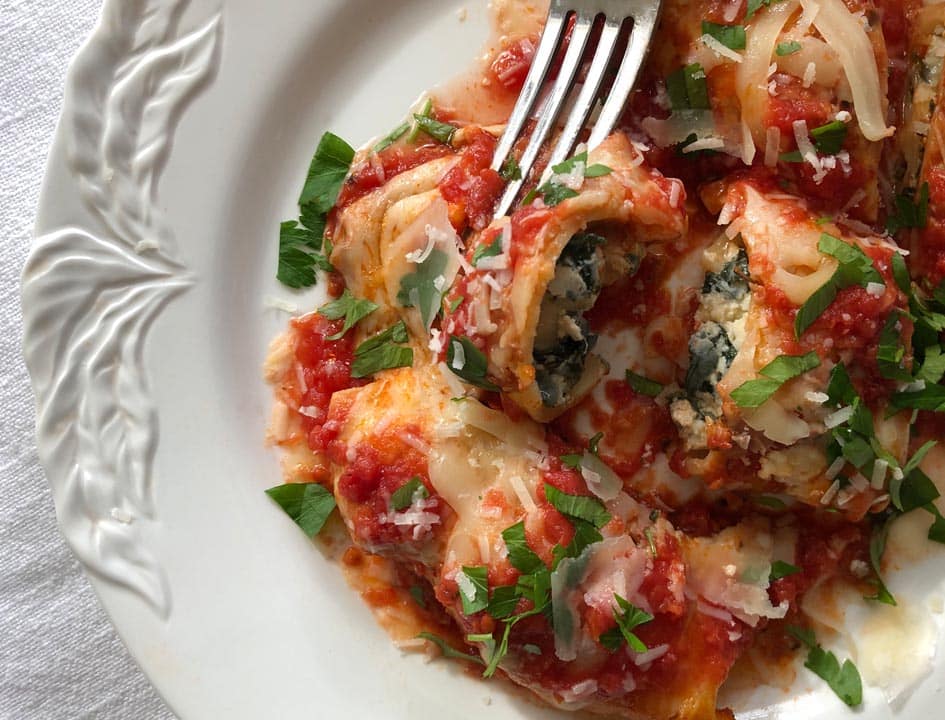 Stuffed shells always make me think about my grandmother Maria cooking in the kitchen all day, making Italian gravy with sausage and meatballs. Remembering the wonderful aroma that came from her kitchen takes me back to a happy time in my childhood. When the days were longer and things were simpler. Can our spinach and ricotta stuffed shells measure up?
The ingredients she put into the sauce were absolutely delicious. She made a stuffed shell that was comforting, hearty, and filling. But on the downside, it had a lot of calories and fat.
Can We Make a Healthier Version of Traditional Stuffed Shells?
Stuffed shells are an Italian tradition, of course, and everybody's grandma has a version. Basically, you take that big box of large shells you see in the grocery store, cook them, and stuff them with a mixture of ricotta, basil, mozzarella, parmesan, and place them in a baking dish with a rich and robust meat sauce. Top with more cheese and bake to mouth-watering cheesy, saucy perfection. Some grandmas add ground meat or prosciutto and mushrooms to the ricotta mixture, too.
We're setting out today to create a vegetarian shells recipe that's just as tasty as Grandma's: Vegetarian Spinach and Ricotta Stuffed Shells.
Adding Spinach Can Boost the Nutrients and Fiber in Traditional Ricotta Stuffed Shells
The first and easiest step is to eliminate the meat sauce. Right off, this will help cut down the amount of fat and calories. Next, instead of taking something away, let's add something that will add flavor and increase the nutritional value of the dish: Spinach. Adding spinach to the filling not only adds fiber but also helps slow down your body's absorption of carbs from the pasta.
How else can we boost up the nutrients in vegetarian stuffed shells? Let's look at each ingredient and determine where we can cut back on fat and calories, and what can we add to boost fiber.
First, consider the type of pasta you use. We can increase fiber in our spinach and ricotta stuffed shells with a whole grain version of the shells.
How you cook the pasta makes a difference, too. Par-boil the pasta for 3 to 5 minutes and put in a colander to drain. Don't overcook it or it will turn to mush and more quickly turn to starch — too much starch is not good for your body.
Whole milk mozzarella is delicious, but with so much flavor going on in this dish, nobody will notice if you use skim mozzarella instead. Same goes for ricotta — opt for the low fat version.
Finally, using a simple vegetable marinara sauce without additives keep the dish bright and healthy.
Let's Talk About Which Sauces to Use
You can make vegan marina for these ricotta stuffed shells from scratch with Joan's homemade marina sauce or you can choose from many good store brands. We generally use the 365 vegetarian or Ohio City marina sauce. Both are vegan and can be used for the stuffed shells recipe.
Healthy Leftover Tip
This dish is actually healthier the next day! Why? The starch changes structure after being cooled overnight in the frig and become a more resistant starch. Resistant starch is converted to fewer calories lessens blood sugar, and is healthier for digestion.
3 Facts About Stuffed Shells
Where Did Stuffed Shells Come From?
Stuffed pasta shells came from southern Italy. The traditional recipe used meat sauce made with a blend of meats such as pork and veal.
What is the Italian Name for Stuffed Shells?
Because stuffed shells have the shape of seashells, in Italy they are called conchiglie (con-KEEL-yay).
What is Traditional Stuffed Shells Made of?
Stuffed shells are made from jumbo pasta, ricotta cheese, mozzarella, parmesan cheese, and basil filling.
Print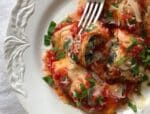 Vegetarian Spinach and Ricotta Stuffed Shells
---
Author:

Total Time:

1 hour 15 minutes

Yield:

1

0

1

x
Description
We're setting out to create a vegetarian shells recipe that's just as tasty as Grandma's: Vegetarian Spinach and Ricotta Stuffed Shells.
---
1

–

1/2

cup

ricotta cheese (low fat)

1

egg

1/4

cup

grated parmesan cheese + extra for topping

2

jars of Marinara sauce

8

oz

mozzarella (skim) divided; 4 oz cut into quarter-inch cubes, 4 oz shredded

10

oz

fresh baby spinach

24

jumbo shells (try to find whole grain)

1/8

tp. garlic power

1/2

tp. Italian seasoning

1/2

tp. sea salt

1/2

tp. black pepper

1

T. olive oil
---
Instructions
Make Pasta and Prepare Filling
Boil shells until partially cooked, 3 to 4 minutes. Drain and set aside.
In a bowl, combine parmesan, ricotta, egg, cubed mozzarella, spices, salt, and pepper.
Saute spinach in olive oil and cool.
Add spinach to the ricotta mixture and stir until combined.
Assemble:
Pour 1 1/2 cups of sauce to cover the bottom of a 9 x 13-inch baking dish. 
Filling Station
Fill each shell with approx. 1-2 T of filling. Seal and place seem side down in the baking dish.
Cover shells with sauce, remaining mozzarella, and parmesan. Use extra sauce when plating and for next-day leftovers.
Baking
Cover with foil and bake in a 350-degree oven for 15 minutes. Remove foil and cook another 10-15 minutes until cheese is bubbly.
Prep Time:

45 minutes

Cook Time:

30 minutes

Category:

Dinner

Method:

Bake

Cuisine:

Italian
Keywords: stuffed shells, stuffed shells with spinach, ricotta stuffed shells
Please note: Nutrition facts and calories per serving are approximate.
© Photos / Health Food Radar
---
The information provided on Health Food Radar is intended for general informational purposes only. While we strive to offer accurate and up-to-date content, we do not provide medical advice, diagnosis, or treatment. Always consult with a qualified healthcare professional before making any dietary or lifestyle changes, especially if you have underlying health conditions or concerns.