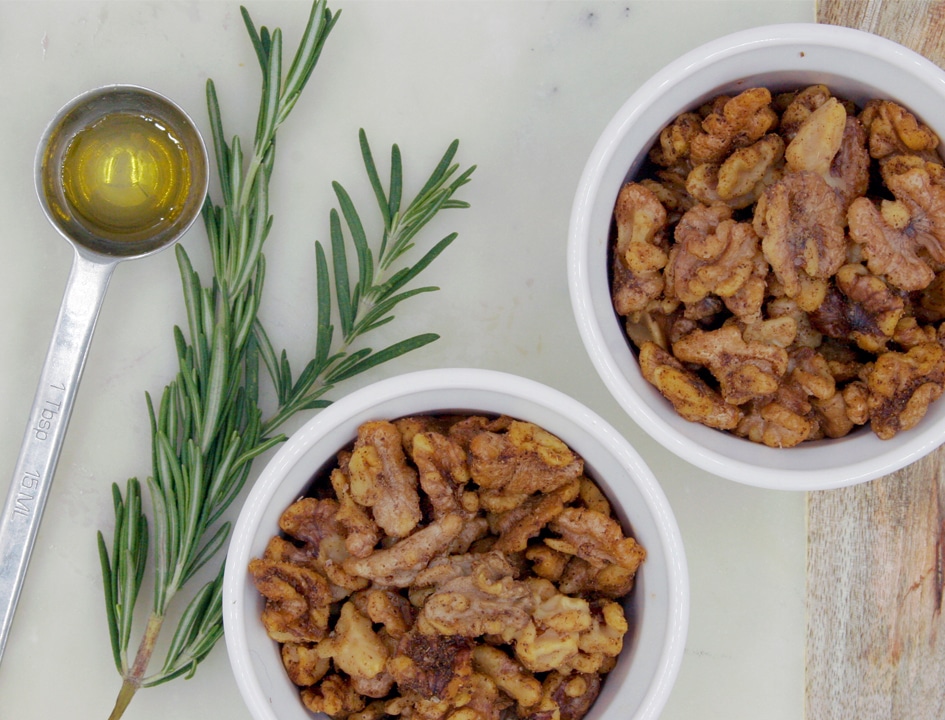 Snacking is important for maintaining a healthy weight, particularly if you have an active life. The most powerful cause of overeating is undereating. In other words, when you wait too long to eat, you feel famished and gulp down food quickly and eat too much. Speedy eating causes digestive issues, in part from consuming air, which can cause gas and indigestion. It also prevents you from assessing if you have had enough to eat, because you don't stop long enough to realize that you feel full.
For Successful Healthy Snacking
It is important to keep a handle on calories when maintaining a healthy weight, or when trying to release weight. (Note: No one likes to "lose" things so the better term is "releasing" pounds that you no longer need or want.)
Macronutrients — protein and good fats. Even more important than the calorie count is the macronutrient balance of your food. Macronutrients are carbohydrates, fat, and protein. Too many carbohydrates in your snack will cause you to feel hungry before you next meal, leading to that famished feeling that leads to overeating. To sustain you, you need a small snack portion full of protein and good fats.
Convenience is key. You also want a snack that is convenient and easy to eat. You want to be able to keep your snack handy, in your bag or desk drawer or car, whatever works best for you. I like to have snacks that can last for several days and that do not need refrigeration.
Go for the Nuts
Keeping all that in mind, the perfect snack is nuts. Nuts are high in "good" unsaturated fat, high in protein, high in fiber, and low in carbs. They are also high in calories. On average, nuts that are raw or dry roasted have about 180 calories per ¼ cup. You only need ¼ to ½ cup for a snack to feel full and sustain you until your next meal.
Even if you love nuts, and you eat a variety of them, eating them every day can get a little boring. So spice them up. It's easy!
Print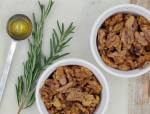 Spiced Roasted Nuts
---
Description
When creating your own spice mix, think about your favorite flavor profiles and recipes. It's all about proportion: For example, experiment with making one tablespoon of spice mix. Once you are satisfied with the taste, keep the proportion of spices the same when you increase the volume.  You will need two to three tablespoons of spice mix. (Remember that one tablespoon is made up of three teaspoons.)
Make ahead: Make one cup of dry spice mix to keep on hand for several batches of spiced roasted nuts. 
---
Spiced Roasted Nuts
2 c. shelled nuts (raw* pecans, cashews, walnuts, or almonds)
2 T. oil (I like olive oil, but any oil will work)**
2–3 T. dry spice mix (see below), to taste
Pinch of salt or salt to taste if your spice mix does not contain salt (Note: If you are using salted nuts, watch how much extra salt you add.)
VARIATIONS:
Chili Spiced Nuts
1 ½ teaspoons cumin
1 teaspoon chili powder
½ teaspoon garlic powder
Pumpkin Pie Spiced Nuts
1 teaspoon ground cinnamon
½ teaspoon ground ginger
½ teaspoon ground nutmeg
¼ teaspoon ground cloves
¼ teaspoon coconut sugar
Indian Spiced Nuts
1 T. Garam Masala (which includes coriander, black pepper, cumin, cardamom, and cinnamon)
---
Instructions
Preheat oven to 300 degrees F.

Combine the nuts, oil, and salt (optional) in a large bowl. Stir to coat all the nuts.

Spread the nuts in a shallow baking or roasting pan. (Line the pan with aluminum foil for easy clean up.)

Roast for 15 minutes, then remove from oven and stir in dry spice mix.

Roast for another 5 minutes.

Store in tightly-closed glass container, like a mason jar.
Notes
*You can use pre-roasted nuts but reduce the oven time merely heat the oil and nuts — approximately five minutes — before adding the spice mix.
**If you do not like the oiliness of the nuts, replace the oil with 2 tablespoons melted butter. This doesn't increase the calories or fat grams, but it replaces the good monounsaturated fats from the olive oil with the not-so-healthy saturated fat in the butter. 
Photo ©Health Food Radar
This post is not intended to substitute for medical advice or prescribed medication. Especially if you have special health needs or a special diet, consult a physician before undertaking any new diet or exercise plan.
The author has not been compensated for any of the products mentioned in this post. In some cases, we may earn a small affiliate fee from certain links, including Amazon and the Health Food Radar shop. This helps compensate our staff for their time. Thanks for supporting us by clicking on the links!
Statements made on this website have not been evaluated by the U.S. Food and Drug Administration. Any information or products are not intended to diagnose, treat, cure, or prevent any disease. Information provided by this website or this company is not substitute for individual medical advice.