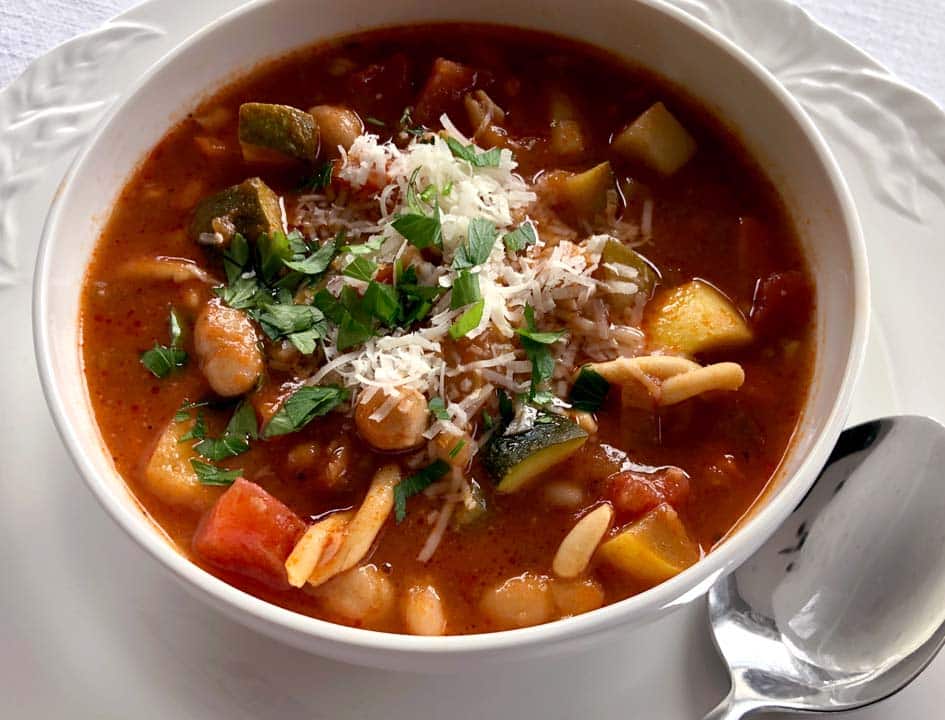 When one of our favorite Chicago chefs opened an Italian restaurant in a nearby suburb, we were beyond excited. Osteria di Tramonto specialized in serving chef Rick Tramonto's family recipes — and until it closed a couple of years ago, we enjoyed his meatball salad, Calabrian potatoes, and some of the best chicken cacciatore I've ever had. Luckily, the chef included many of the restaurant's recipes in his cookbook, Osteria, published in 2008, and my wife began cooking from it with gusto. This was the inspiration for a great healthy vegan minestrone soup.
We'd never have guessed that the book's minestrone soup recipe would become one of our family favorites. When I asked Joan why it tasted so good, she said it was butter. Lots and lots and lots of butter.
Oh, I said, what's not to like? Here's a challenge for you, can you make this recipe over so it tastes this good without all the butter?
Let's do a light version of vegan minestrone soup and share it on Health Food Radar for all our health-conscious folks! So, Joan took up the challenge.
She suggested rather than use all that butter, let's substitute with onions and garlic to give it that buttery flavor. The result was amazing. It still has that buttery flavor without the butter. Very healthy and vegan. It has your garbanzo beans, cannellini beans, zucchini, yellow squash, carrot, celery, potatoes, and crushed tomatoes. We also used a healthier pasta, Banza chickpea pasta. Each serving has 2x the protein, 3x the fiber, and 1/2 the net carbs of traditional pasta.
Develop Layers of Flavor in Your Vegan Minestrone Soup
To develop layers of flavor, we caramelize the onions and, instead of simply tossing in chopped garlic, we roast a whole head of it and squeezed the cloves into the soup. It's not butter, but it's delicious.
Served with a side salad, a hearty bowl of minestrone makes a filling and delicious winter weeknight meal. Let's get into the recipe.
Facts About Minestone Soup
Why is it called minestrone soup?
Minestrone means "Big Soup". In Italy, it's like a goodie bag with lots of ingredients, like pasta, beans, and vegetables.
Who invented minestrone soup?
Minestrone has its roots in Italy. Minestrone originally was a very simple dish for the masses, because it is filling and cheap. It was also used as a main course.
What are the benefits of minestrone soup?
Minestrone soup has lots of fiber because it's packed with vegetables, greens, and legumes these slow down the absorption of sugars in the blood.
What part of Italy is minestrone soup from?
Short answer, all regions. In the northern region, for instance, minestrone can include pasta and winter squash. Farther to the south around Tuscany, they add cannellini beans and cabbage. On the coast, the Italians add in pesto.
Print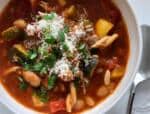 Heartwarming Minestrone Soup
---
Author:

Total Time:

1 hour 20 minutes

Yield:

8

1

x

Diet:

Vegan
Description
Packed with colorful vegetables, this hardy soup achieves its level of deliciousness thanks to caramelized onions and roasted garlic.
---
2 T. olive oil, plus extra for roasted garlic
2 cups onion, medium dice
1 head garlic
1 cup carrots, sliced in 1/2 inch dice
1 cup celery, small dice
1 c. Yukon Gold potato, 1/2 inch dice
1 can garbanzo beans, low salt (drained)
1 can cannellini or navy beans, low salt (drained)
1 qt. Tomato juice (Campbells)
1 14-oz can diced tomatoes (Muir Glen, low salt)
1 qt. vegetable broth, low salt
Water
1 cup zucchini, diced
1 cup yellow squash, diced
2 t. salt
1/2 t. ground pepper
4 oz. Banza chickpea pasta elbows*
Basil for garnish (optional)
Vegan grated parmesan (optional)
---
Instructions
Place the garlic head on a small sheet of foil and drizzle with olive oil (2 t.). Wrap loosely and place in a 350-degree oven for 30 minutes. Check to make sure the cloves are soft and oozy. Continue baking if not.
Heat 2 tablespoons of olive oil in a large pot. Add the onions and simmer over medium to low heat, stirring occasionally for 15 to 20 minutes until the onions are golden brown, but not burnt.
Add the carrots, celery. Cook over medium heat for five minutes.
Add the potatoes and cook for another five minutes until the potatoes begin to soften.
Add the tomato juice, stir and simmer until juice is reduced by half, about 10 minutes.
Add the beans, stock, 2 cups of water, and salt and pepper. Simmer, uncovered, for 30 minutes, stirring occasionally. (Do not boil.)
While the soup is simmering, heat water in a separate pan to a boil and cook pasta until al dente (remember it will continue cooking in the soup). Drain and set aside.
Add the zucchini and squash and stir. Then, slice the top off of the roasted garlic bulb and squeeze the soft roasted garlic cloves into the soup. Stir and simmer for 5 minutes to warm through.
Add the pasta and stir for a couple of minutes to warm.
Taste and add salt and pepper to taste.
To serve, top with vegan parmesan and basil chiffonade.
Notes
Traditional minestrone uses small pasta shapes, such as tubetti. Choose your favorite pasta shape.
If you aren't sticking to a strictly vegan diet, adding a parmesan rind to the soup along with the beans will add extra umami.
Prep Time:

20 minutes

Cook Time:

1 hour

Category:

Soup

Method:

Stovetop

Cuisine:

Italian
Keywords: vegan minestrone soup, minestrone soup recipe, vegetarian minestrone soup recipe, healthy vegan minestrone soup
Please note: Nutrition facts and calories per serving are approximate.
© Photos / Health Food Radar
---
The information provided on Health Food Radar is intended for general informational purposes only. While we strive to offer accurate and up-to-date content, we do not provide medical advice, diagnosis, or treatment. Always consult with a qualified healthcare professional before making any dietary or lifestyle changes, especially if you have underlying health conditions or concerns.